For years, Google has led in employee engagement metrics.
They continue to win awards for their work culture, currently ranked as the 8th best workplace, rated 4.6/5.
This is astounding, considering the general decline in employee engagement.
A recent study by Gallup shows that 7 out of 10 employees say they're struggling at work, and 80% are actively disengaged.
So, the question is:
How has Google maintained an engaged workforce and high job satisfaction despite its size?
What strategies do they implement that have helped them retain and attract employees?
Below, I'll deconstruct each strategy, expose why it worked, and reveal ways to implement it in your company.
Then I'll end with a major mistake Google made and how you can avoid it.
It's All in Their Mission and Vision
Employees feel more connected to the workplace when they know the company's mission. It's even better when they can see the real-life impact of their work.
Google's mission is to make the world a better place using technology. And they've been able to communicate it to their employees and new hires.
As a result, employees come to work with pride, knowing they're contributing to making the world a better place.
What To Learn?
Employees want more than the money needed to pay the bills. Just like everyone, they need purpose.
So, discover the real problem you're solving. Then clearly communicate it consistently to employees.
For example, you could reiterate it during training, work retreats, and so on.
Also, weave it into your hiring process. That way, applicants will connect with your company even before getting hired.
Every Employee Is Encouraged To Remain Innovative
The product a company churns out is as good as the creativity of the people who work on it.
Google understands this.
So, to boost the creativity of their employees, they allow them to spend 20 percent of their time – 1 day a week — working on any passion project of their choice that sometimes becomes real products.
For example, Gmail and Adsense are products of the 20 percent initiative
Not only that.
They also make it easy for employees to find partners to collaborate with by making all projects open.
As a result, employees develop their creativity, derive more satisfaction from their job, and feel free to voice creative ideas.
What To Learn?
Your business's long-term success hinges on your employees' creative abilities. Because as things change, you need a workforce that adapts too. Else, you'll be left behind.
So, encourage employees to explore their creative abilities.
Allow them to voice out creative ideas without fear of being shut down. Set aside some time they can use to work on other projects they love.
And if possible, allow them to collaborate on other projects if they wish to.
Active Involvement in Employee Development
A recent study shows that high-performing companies have started focusing on developing internal talent in response to the skill shortage.
Makes sense. Because it's far cheaper to train and promote employees than hiring from the outside.
Also, 94% of employees say they'd stay with you if you invest in their development, per LinkedIn. In fact, Deloitte reports that millennials — currently the largest generation in the workforce — rank development initiatives as the third most effective retention strategy.
Given all these factors, it's no surprise that Google spends a lot on employee development programs.
One great example is the employee-to-employee learning program, Googler-to-Google (G2G).
It's a network of over 6,000 employees who volunteer to help grow their peers. They create teaching courses, host 1-1 mentoring sessions, and help design learning materials.
Another employee development initiative at Google is Career Guru. It connects employees with any of the 350 internal coaches (gurus).
These gurus give advice, help employees identify their strengths, pinpoint development areas, and create career growth plans.
What To Learn?
Opportunities to learn and grow are key to retaining employees.
So, invest heavily in the reskilling, upskilling, and training of employees.
Assign employees a yearly learning budget to take courses, purchase books, and attend conferences and training. And invest in subscriptions for learning platforms like Masterclass, Scribd, Udemy, Maven, and top industry publications like HBR and Forbes.
It may seem costly. But it's small compared to what you'll spend to hire and train a new employee.
Google Listens and Acts on Employee Feedback
Google put in place various programs that ensure they're listening to employees.
And that's because they understand that employees who feel heard bring so much to the business.
In fact, a recent study shows that 92% of highly engaged employees feel heard by upper management, per Workforce Institute. Because the company seeks their input and follows through on their suggestions.
Google's people operations team (HR) always seeks employee feedback using Googlegeist.
Googlegeist is a yearly survey where employees answer questions about their managers, what it's like working at Google, and what the company should do better.
And since they always implement the feedback, the survey completion rate is 90 percent!
Also, employees are encouraged to share their opinions freely. That's the idea behind open house Fridays.
As the name implies, it's a weekly program held on Fridays. In a relaxed environment, employees ask higher-ups questions and offer suggestions.
Finally, people analytics is crucial to Google's employee engagement program. They make no decision without data input from employees.
Here are some examples:
Project Oxygen for reviewing management style
After running a survey, Google discovered that employees — mostly engineers and millennials — didn't like managers for two reasons:
Firstly, engineers naturally detest micromanagement. Laszlo Block, former HR head at Google and author of Work Rules! Insights from Inside Google That Will Transform How You Live, said:
"Engineers generally think managers are a necessary evil, but mainly they get in the way, create bureaucracy, and screw up things."
Secondly, millennials prefer working in an environment where they can interact freely with upper management, per PWC. And that means fewer management layers.
So, Google's people innovation lab launched Project Oxygen to investigate the impact of manager quality on performance.
They used data from employee engagement surveys, previous performance reviews, and employee feedback.
The result?
They discovered a correlation between the quality of the manager and their team's performance.
So, they shifted from the culture of micromanagement and created a list of eight things good managers do well. It's become a checklist they use to discover and train managers.
Simplicity Sprint to Boost Efficiency
In 2022, the numbers released showed dwindling productivity among Google employees.
So, what did Google do? Go straight to implementing various initiatives?
No. Instead, they turned it into an opportunity to involve the employees in decision-making.
They sent out a company-wide survey, seeking the help of their 170,000 employees to solve the problem. The survey questions were:
What would help you work more efficiently and efficiently to serve our users and customers?
Where should we remove speed bumps to get better results faster?
How do we eliminate waste and stay entrepreneurial and focused as we grow?
Senior leaders reached out to employees whose suggestions had the potential to solve the productivity problem.
What To Learn?
Employees feel valued when you listen to them and implement their ideas. As a result, they're more likely to bring more ideas, which will help develop your company.
So, using employee engagement software, always try to get employee feedback.
But don't stop there. Implement it.
Culture of Diversity and Inclusivity
Google is keen on creating an inclusive workplace.
To that end, they instituted 16 employee resource groups (ERGs) comprising 3,500 employees worldwide. They help ensure:
Racial equity
Disability inclusion
Gender equity
LGBTQ+ inclusion
Veteran inclusion
Also, Google presents its efforts toward diversity and inclusion in a yearly diversity annual report.
This way, they avoid virtue signaling. That's because employees and the general public can track their efforts, to ensure they're doing the work and meeting commitments.
Also, they actively focus their recruiting efforts on equal representation.
For instance, in 2022, they created a program called The Collective. It was a 6-month program to onboard new hires (Nooglers) and managers who are black.
What to Learn?
These days, many companies practice virtue signaling. But Google goes beyond a statement or mission and does the work.
So…
Don't just claim to practice a culture of diversity and inclusion. Walk the talk.
Implement a quota system to ensure everyone is represented in your hiring efforts. Because diversity and inclusion take active effort.
Also, actively pay close attention to diversity and inclusion in your workplace. Set up ERGs and include questions for measuring your workplace's inclusivity in pulse surveys.
Carefully Crafted Fun Work Environments
A recent study shows that 96 percent of employees agree that workplace aesthetics boosts performance.
It's no wonder Google's Real Estate & Workplace Services (REWS) spares no expense when designing offices.
Nothing is left to chance, whether it's the color of the walls or the position of the chairs. Every choice is made to increase workers' creativity and make them feel comfortable.
There are also game areas, in-house nap pods, gyms, swimming pools, and basic health checkups.
That's not all.
Aside from making the spaces visually appealing, Google tries to model the office after the city's culture.
For example, the lobby of the Belgrave office looks like a British gentleman's club. The Nigerian office has meeting rooms crafted to resemble a mud hut, and another to resemble an autorickshaw. And so on.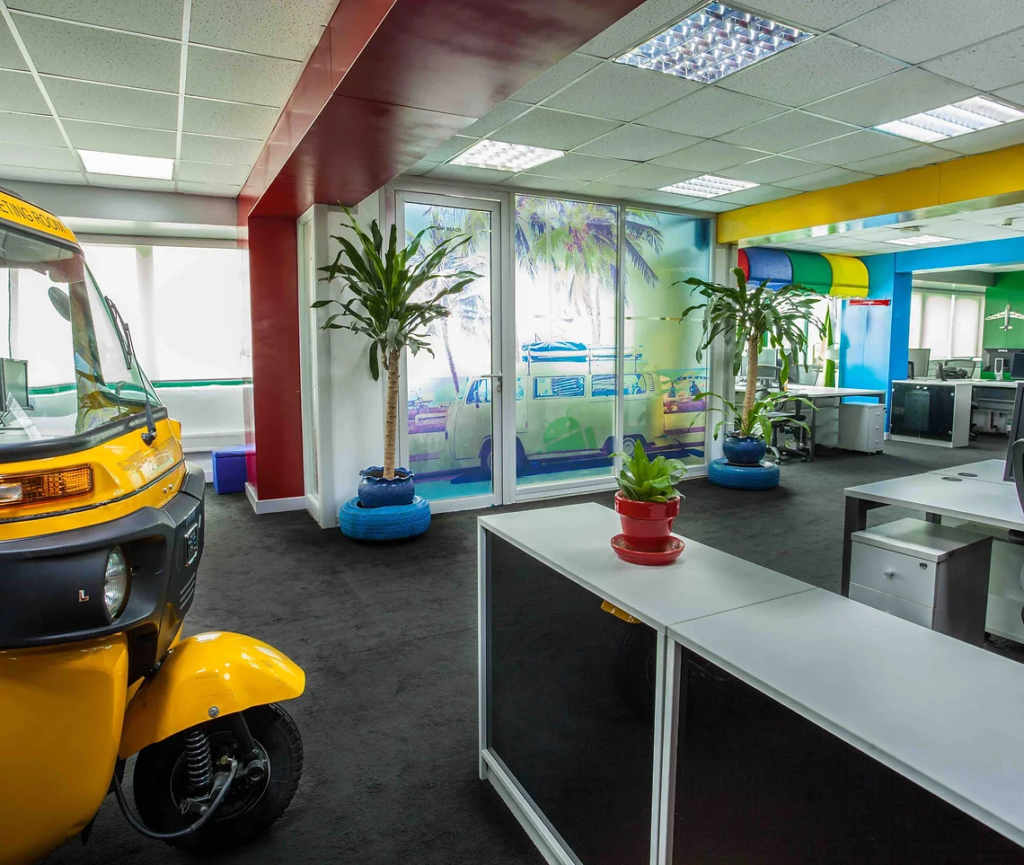 What this does is make employees feel at home while at work. And since they're relaxed, they are more likely to develop creative ideas and less likely to suffer stress.
What to Learn?
Put extra thought into designing your workplace. At the very least:
Maximize exposure to natural light
Use bright colors
It should support collaboration among employees
The goal should be to ensure your employees are comfortable. Because they'll find it easy to think creatively.
Keeps Employees Happy With Different Perks
Google's perks to employees are among the best in the technology industry.
In fact, there's currently a long Quora thread with glowing comments from former and current employees, about the perks they love most.
Examples of the perks they offer include:
Onsite wellness centers
Reimbursement of student loans
Paid time off for vacation and leaves
Support for remote and hybrid
Income to survivors of deceased employees
Free meals and snacks
In-office game stations
And many more.
These perks motivate the employees always to put in their best, and go the extra mile in any task.
What to Learn?
Employees want to feel valued. And what better to show it than giving exclusive perks?
However, it doesn't have to be something big. It could be basic things like remote support, free snacks, and paid time offs.
Remember:
Investing in the happiness of your employees is the same as investing in the success of your business.
They Hire the Best
Google's policy is to hire the best talent. It's why they have a rigorous interview process.
Usually, the first interview is with a hiring manager. Once that's out of the way, the prospective hire is handed over to a hiring committee that makes the final decision.
Aside from evaluating their talent, the recruiting team ensures the applicants will fit the company well.
This is especially important, since Google employees move from team to team and role to role.
Also, one bad hire can make the work environment uncomfortable for others. This can lead to high employee churn.
Additionally, employees love working with the best minds, which helps them grow. It's why Google has one the highest retention rates among tech companies of comparable size.
What to Learn?
Aside from hiring for talent, look out for culture fit.
If possible, involve those the applicant will be working with, in the recruitment process. This way, you'll hire people who are a good fit for each other.
Pro tip!
If you're hiring for high-level positions, this tip from "Whatever you think, think the opposite" by Paul Arden will help you choose the best-fit.
Google's Major Error: Management of Layoffs
In January, Google announced they'll layoff 12000 employees in a public message.
This was in response to the general decline in the global economy and the need to focus on products of higher priority.
To be fair, they offered a great severance package to employees, in line with local labor regulations. For example, those in the US received:
Pay for the full notification period (minimum 60 days).
A severance package starting at 16 weeks salary and two weeks for every additional year spent at Google, and accelerate at least 16 weeks of GSU vesting.
Full pay for 2022 bonuses and remaining vacation time.
6 months of healthcare, job placement services, and immigration support
But the problem is they should have done better in certain areas. They include:
Poor communication
Employees didn't receive any prior notification.
Some only found out after they tried to log into the system and discovered they were locked out. Others found out after they tried entering the building but found out their badges were deactivated. Others received a brief email with no reason mentioned.
They had no time to say goodbye to mates or round up any project they were working on.
As a result, Google has been bashed by the employees and the general public. A recent CNN article used the title "Google was beloved as an employer for years. Then it laid off thousands by email" to explain the public outrage caused by Google's poor management of the layoff process.
What to Learn?
Rather than keeping employees in the dark, notify them early and tell them why. Because it shows you respect the efforts they've put in and saves the reputation you've built over the years.
Managers were Not Carried Along
Several high-performing employees who had been instrumental to Google's growth were laid off. Even more surprising is that some affected employees were in line for promotions!
This would have been avoided if upper management had cued in managers.
Why?
Only managers can objectively identify high-performing employees to retain. Besides, they rely on managers to nominate employees due for promotion.
What to Learn?
The best people to handle layoffs are the managers. They're familiar with their team members and know who you should retain.
So, carry them along in the process. Tell them of the process, and let them pick the employees to keep.
Use Google's Strategies to Maintain High Employee Engagement Levels
We've fully explored Google's strategies to keep employees engaged, happy, and satisfied with their jobs.
You can use any of our tips to maintain engagement levels. It may not be at the same scale as Google, especially if you're a small-scale company. But what counts is the effort.
If you're looking for ideas, check out this article on 8 Company Culture Ideas for C-Suite.